Halloween is my favorite Holiday of the year! There is no pressure, just a lot of FUN (and excuses to eat extremely large amounts of candy). I have a room in my house that I like to make as creepy as possible– the more hairy spiders, the better!
It's just unfortunate that Halloween decorations are so darn expensive when you can easily make a lot of them from cheap materials you probably already have at home…. hence, DIY TRASH BAG SPIDERWEBS! They really do look pretty cool in a window, especially with a few little creepy spiders crawling on them.


Read the full post & watch the video
Easy DIY Trash Bag Spiderwebs

Easy & cheap Halloween decoration! DIY Trash Bag Spiderwebs Full Instructions >>> http://www.fastforwardfun.com/easy-diy-trash-bag-spiderwebs/

Posted by Fast Forward Fun on Tuesday, September 29, 2015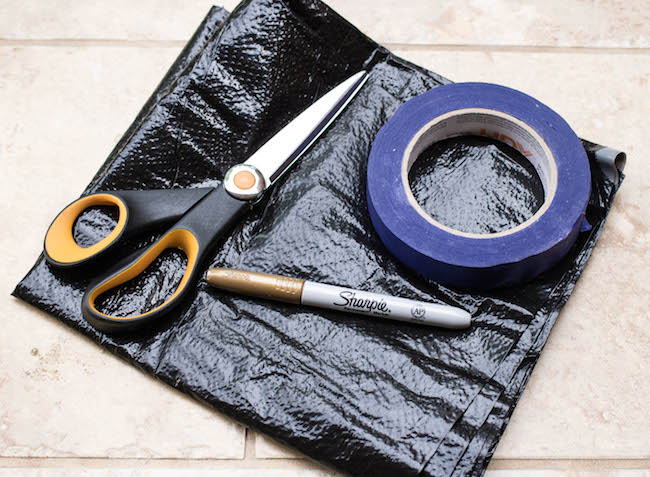 Because you will get two spiderwebs out of a single trash bag, you will only need 1 or 2 trash bags for this project. I recommend bags that are thin with a grainy texture if possible because the glossy bags tend to slide around a lot when you're trying to cut them.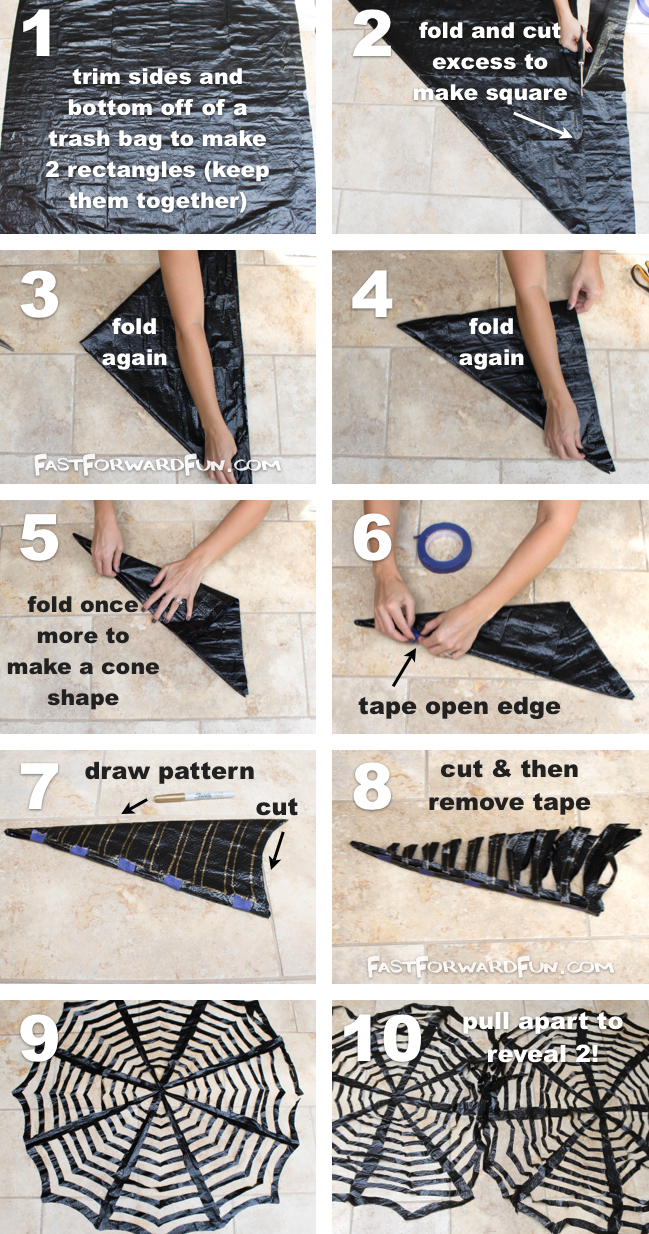 1. Trim the edges off of the sides and bottom of your trash bag so that you have 2 rectangles (keep them together so that you can cut both at once).
2. Fold them into a triangle, and cut off the excess so that you have a perfect square.
3. Fold into a smaller triangle, and then again into another smaller triangle.
4. Now, fold once more to make a cone shape (you will have excess trash bag on the bottom).
5. Tape the side of the bag that is open with tape that is easy to remove (I used painter's tape) so that it will be easier to cut.
6. Cut the excess plastic off of the bottom of your "cone" in a curved shape that resembles the outer edges of the spider web.
7. Use a permanent marker (gold works well) to draw the pattern shown below. You're basically drawing long thick rectangles, only slightly curved to match the shape of the half-moon at the bottom.
8. Cut out your markings, and then remove the tape.
9. Unfold the bags and pull them apart, revealing 2 trash bag spider webs. Hang them on the wall or in front of a window with clear tape.

A Few Tips

Use thin, textured bags to make the cutting process easier.
Make a few different sizes, and connect them together on the wall or over a window with scrap strips of bag for a more realistic look.
Make a couple of spiders with felt or card stock to place on the webs.
Don't drink too much wine while you're making these or you'll screw it up.

Read or add Comments